Quick Links
---
Top Breeders | Average Price | Questions to Ask | Taking Puppy Home
---
German Shepherd Puppies for Sale in Arizona
We know that many people want German Shepherd pups for sale in Arizona. We can help you find local German Shepherd breeders.
We are excited you've chosen to get a German Shepherd puppy in Arizona. We'll help guide you to well-reputed German Shepherd breeders in Arizona. We only look for puppies whose bloodlines are so strong and amazing that you can see results from the first week of bringing your new pup home.
These pups are healthy, happy, and very smart. They have been raised underfoot and socialized to be a part of your family. All puppies are given shots and dewormed at appropriate ages. They come with a health guarantee, and the experience of our GSD breeders to help you with any questions or concerns about your new puppy.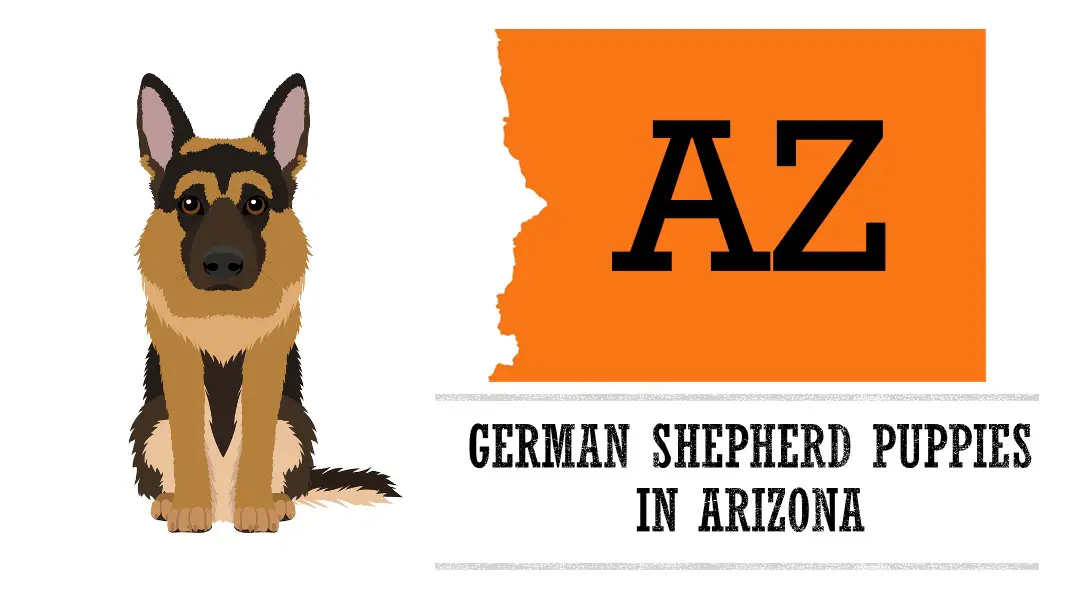 German Shepherd Breeders List in Arizona
Abbott's German Shepherds
Years in Business: 30+
Maricopa, AZ
Call: 602-618-1854
https://agsdogs.com/
Alpine Safety K9 International
Years in Business: 10+
Tempe, AZ
Call: 480-777-0007
No Website
AZ King Shepherds
Years in Business: 5+
Wittmann, AZ
Call: 850-292-6156
http://www.azkingshepherds.com/
Best of Valley German Shepherds
Years in Business: Unknown
Glendale, AZ
Call: 602-421-9562
No Website
Daisy Mountain Labs
Years in Business: 5+
Phoenix, AZ
Call: 602-576-6623
http://www.daisymountainlabs.com/
Desert Hills German Shepherds
Years in Business: 20+
Desert Hills, AZ
Call: 602-291-6361
http://www.deserthillsgsd.com/
Desert Mountain German Shepherds
Years in Business: 5+
Maricopa, AZ
Call: 480-309-9354
http://www.desertmountaingsd.com/
Dragon German Shepherd
Years in Business: 20+
Wittmann, AZ
Call: 623-388-0494
http://dragongsd.com/
Far West Shepherds
Years in Business: 3+
Queen Creek, AZ
Call: 602-339-1416
http://www.farwestshepherds.com/
Farbenholt Dog Training
Years in Business: 10+
Dewey, AZ
Call: 928-632-7557
https://www.azgermanshepherds.com/
Kennel of Arizona
Years in Business: 5+
Marana, AZ
Call: 520-400-9968
http://germanshepherdvonarizona.com/
RuffGSDK9
Years in Business: 10+
Wittmann, AZ
Call: 602-903-3585
http://www.ruffgsd.com/Past%20Pups.htm
Southwest German Shepherds
Years in Business: Unknown
Scottsdale, AZ
Call: 480-215-7886
http://www.southwestgsd.com/
Tre'Good German Shepherds
Years in Business: Unknown
Camp Verde, AZ
Call: 928-853-4156
http://www.tregoodgermanshepherds.com/contact
Vintar German Shepherd
Years in Business: 5+
Buckeye, AZ
Call: 928-830-9373
http://www.vintargermanshepherdarizona.com/
Von Shiprock German Shepherds
Years in Business: 3+
Queen Creek, AZ
Call: 480-888-0147
http://vonshiprock.com/contact.html
Zauberberg German Shepherd Breeder And Dog Trainer
Years in Business: 7+
Tucson, AZ
Call: 520-419-2199
https://zauberberg.com/
What is The Average Price for A German Shepherd Puppy in Arizona?
The average is anywhere from $500 to as much as $1500 US dollars. The demand for the German Shepherd breed has been going up over the last few years, so you might have a bigger selection of German Shepherds available in Arizona if you look around a little bit.
These prices are for pet-quality pups and only a select few offer show/breeding rights.
If you have your heart set on a particular bloodline, often the price will increase with demand – so it might cost more to get one from a top breeder. Don't be surprised if someone is asking for over $2000 for a top AKC dog.
You can find different pricing from various breeders, based on where you live, the quality of the pup, and other factors.
How to Find A Responsible German Shepherd Breeder in Arizona?
You can search for different breeders by using your favorite search engine and you might find some local dog breeders who sell German Shepherds available in Arizona on their own website, or you could also make a post on social media asking for recommendations.
Since you are likely looking for a German Shepherd as your family dog, we can help guide you to those breeders who have been breeding dogs responsibly.
Here are some things to look out for when it comes to German Shepherd breeders in Arizona :
Is the breeder someone who breeds show dogs? If so, they usually charge more than if you're looking for a pet dog. They sometimes ask that buyers take back any pups or dogs they might not be able to keep due to space, time, or other factors.
Some breeders will have a contract in place for pet-quality puppies. Be sure to look it over thoroughly so you are clear on their policies before you buy.
Reputable breeders are very open to answering questions about the parents of the pups, their temperaments, and more.
A breeder should be more than happy to have you stop by anytime during the day so you can see where your pup is being raised before you finalize a purchase.
Visit Your German Shepherd Breeder in Arizona in Person
If you are interested in purchasing a German Shepherd puppy, then look for breeders that are willing to have you come by during the day or even better – an evening.
During your visit, check out what they have available. Are the dogs well-behaved? Are they healthy? Do things seem clean and organized?
If you are looking for a good breeder, you will be convinced after your visit.
If you have any questions about your puppy or its parents, ask. The breeder should have detailed records of each dog's health and registration information.
Most breeders can provide references from past buyers who have purchased their puppies to ensure the quality of the bloodline.
Questions to Ask
Ask for References from Your German Shepherd Breeder in Arizona
Go ahead and ask your breeder about anything you want to know. They should be more than happy to answer any questions you have if they are proud of the quality of pups that they produce.  If you can't find out information about a potential parent dog, then maybe it's time to move on.
It's not uncommon for breeders to be very detailed about the parents of their pups, so if they aren't willing to answer questions or seem vague – this is a red flag
Ask for references from past clients and check these references to ensure the quality of the bloodline and how satisfied you would be with your puppy.
The references might also be able to steer you away from any breeders you should avoid.
References might be available on the breeder's website, or you can ask for them over the phone. If they are reluctant to give out references without meeting you in person, then this is a red flag.
Ask Your Arizona German Shepherd Breeder if You Can Meet Past Customers
Once you have found a breeder that looks promising, ask if you can see how others feel about the quality of their German Shepherds.
After all, the breeder should be proud of their dogs and willing to show them off.
If they are reluctant to let you meet past customers when you call, then this is another red flag.
You can also ask if you can see any blog posts or social media posts about their business in order to get an idea of what others are saying.
Look for a breeder that is more than happy to have you meet their references. They should be proud of the quality of dogs they produce, so don't settle for anything less.
It's recommended that you visit your Arizona German Shepherd breeder with at least one other person along, especially if it is your first purchase.
You will feel more at ease when someone else is with you, especially since many breeders are very particular about the clients they work with.
Look for a breeder that has an online presence. You want to be able to look up reviews and testimonials about them in order to ensure your pup is coming from a quality breeder.
Does Your Arizona German Shepherd Breeder Have A Good Veterinarian They Use?
Don't settle for a breeder that isn't willing to give you the name of their veterinarian, or can't tell you about their dogs' vet visits. Your puppy should be healthy and well-cared for.
Ask if they will allow you to take your dog back to their vet even after you purchase it. If this is not their policy, then maybe it's time to seek a breeder that will be willing to help you out for a lifetime.
Many breeders will be willing to go with you to your vet and help you with the veterinary care of your German Shepherd.
Ask for any vaccination records of the dogs produced by the breeder. A good breeder will be able to give you all of their dogs' vaccination records and show that they are up-to-date with shots.
Look Out for The Signs of An Unethical German Shepherd Dog Breeder in Arizona
While it can be difficult to determine if your potential breeder is unethical, there are some signs that you may want to look out for.
Their puppies might have health problems or need medical care even after being spayed/neutered. Some breeders will not give the vaccinations required by the state of Arizona unless they are paid extra.
An unethical breeder might sell their dogs as working dogs even though they cannot perform the tasks related to a specific job.
Plenty of unethical breeders will not tell you that their dog isn't AKC registered. They might even tell you that they are related to a specific bloodline in order to pass their dog off as purebred.
Ask The Breeder if Your German Shepherd Puppy Has Any Health Problems
Unethical breeders might not disclose known genetic disorders to you. There are many puppy mills in the United States, so be sure to do your research and ask questions.
Ask The Breeder if they Can Provide You with a Health Guarantee
A good breeder should be able to provide you with a health guarantee that will cover basic genetic health problems that your dog might develop. If they are not willing to do this, then it is probably best to seek out another Arizona German Shepherd Breeder.
Some breeders will give you a guarantee on hip dysplasia, but this does not cover other genetic diseases or conditions. Some dogs sold by unethical breeders may be sold with congenital conditions.
If you are looking at adopting or purchasing an adult German Shepherd, make sure the breeder will provide you with any AKC registration paperwork necessary for your new addition to your family.
How to Prepare Your Home for Your German Shepherd Puppy 
Before you bring your new pup home, there are a few things that you'll need to have done in order to prepare for your German Shepherd's arrival. This includes having all of their necessary paperwork ready for them, as well as getting the right supplies and equipment.
All of this is very important. Don't skip out on any of it.
You Will Need to Prepare a Specific Area for Your Dog
Crate training is the best way to help your German Shepherd feel at home and reduce stress while you are not able to supervise them. They should have a designated sleeping area that they can get familiar with so that they know where their bed is in your home. Wherever your dog is going to sleep, it needs to be somewhere that they can feel safe and comfortable.
Do Not Skip Out on Training Your Puppy
Puppies need education as soon as you bring them home. Without training, your new pup will not know how to properly interact with others. They also might ruin your furniture or get into things that they shouldn't be getting into. Puppies need consistency in terms of what is acceptable behavior and what they are allowed to do around the house.
You Will Need Dog Supplies for Your German Shepherd Puppy
If you are adopting your Arizona German Shepherd from a rescue or shelter, make sure you are ready for their arrival. You will need to have everything they need on hand before they come home with you.
Martingale Collar – 6ft Leash
Food and Water Bowls
Dog Bed
Extra Collar and ID Tags
Potty Training Your New German Shepherd Puppy
Potty Training your German Shepherd is not something that will happen overnight. It takes time and consistency in order to potty train your dog successfully. They need to know where it is appropriate for them to go in your home, and when you take them outside they should quickly learn what the designated "potty area" is.
Waterproof Dog Pad
Crate or x-pen for potty training
Potty training your German Shepherd puppy should be started as soon as you bring them home. It is much easier to train your dog when they are still young than it will be to try to teach an older dog this type of behavior later on in life. German Shepherd puppies have clean slates and will learn more quickly from the beginning.
If you start the potty training as soon as you bring them home, your Arizona German Shepherd pup should be fully potty trained in no time.
Positive reinforcement when potty training your puppy is important and will help discourage the bad behavior that can sometimes start with a less than positive reinforcement scheme.
Remember to be patient. Things won't just happen overnight when it comes to training your puppy. Treats work well for puppies, but some people use toys or other things to get their dogs interested in what they are doing. Be creative.
We're excited that you decided to purchase a German Shepherd puppy here in Arizona. They are great animals. Don't forget to treat them like family.